Mold Remediation
Many property owners are unaware that a serious mold outbreak can be just as devastating to their building as a fire or a flood. When allowed to spread, this silent culprit can cause widespread cosmetic and structural damages to your belongings and to your building itself. Additionally, many types of mold also pose serious health threats, such as allergies, asthma, and even cancer. If you have noticed any mold in your home or business, don't try to perform DIY mold removal with unreliable over-the-counter agents—pick up the phone and call the mold remediation team at Quality Waterproofing, LLC, today. We are a family-owned business dedicated to safe, effective, and affordable mold and mildew removal. Don't risk your home and health—contact a Quality Waterproofing mold specialist via e-mail or telephone right away if you suspect that your building is being damaged by mold.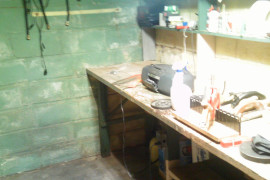 While most people learn that there is mold in their building by actually seeing it, mold often grows in hidden places, such as behind drywall or under carpeting. Luckily, there are other signs that could indicate that your building may require the removal of mold. Consider contacting Quality Waterproofing, LLC, about professional mold remediation if you've noticed:
Rotting wood
Musty odors
Bulging or warped walls or ceilings
Staining
Flaking wallpaper
When you call Quality Waterproofing for mold cleanup, your technician will begin by identifying and containing the affected areas. We'll then assess which items are salvageable and use special anti-mold agents and tools to scrape away the mold from your belongings and surfaces, taking special care to ensure that your possessions are not damaged during the process. After the initial mold removal process is complete, we will begin the most important mold remediation step of all—preventing future outbreaks. Mold requires only two things in order to grow and thrive—moisture and a food source, such as wood, paper, and nearly any other organic material. While it is impractical to remove potential food sources, the mold cleanup specialists at Quality Waterproofing can eliminate the sources of excess moisture. Your technician will do this by identifying potential entrance points and deciding on a suitable basement waterproofing method. This could be anything from sump pump installation to foundation crack repair. Once the source of the water has been eliminated, the chances of an additional mold outbreak will be drastically reduced.
When you choose Quality Waterproofing for mold removal, you can count on thorough, honest work at a reasonable price. Prompt mold removal is vital in order to contain the outbreak and prevent the damage from growing out of control, so please don't hesitate to call. Other mold companies might send an amateur out to perform a cleanup, but when you contact Quality Waterproofing, LLC, you will receive superior service from a mold specialist that has more than 10 years of experience with mold removal and prevention services. If you're in the market for black mold removal or you wish to have your home or business waterproofed to prevent future mold growth, set up an appointment today. Our mold specialists have the skills and tools to help you maintain your building's beauty and strength by eliminating mold and all its associated dangers.
Mold Specialist
mold removal
Mold Companies
Mold Prevention
mold remediation