Foundation Repair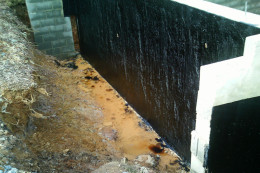 There is no such thing as a superficial crack in your foundation. Even the tiniest fissure can be a prelude to serious structural issues, as threats such as rising and falling temperatures and moisture can cause these small imperfections to rapidly expand. Without a strong foundation, your entire building can be affected, leading to irreparable damages and eventual collapse. To prevent a terrible outcome such as this, it is vital to seek foundation repairs as soon as you notice any evidence that suggests your building's support system may be compromised. The foundation contractors at Quality Waterproofing, LLC, have more than a decade of experience with commercial and home foundation repair and are available to serve buildings throughout Manassas and environs. Contact us today to promote your building's longevity and overall safety. We are available via e-mail and telephone and can provide you with a free estimate on your desired service.
Foundation Crack Repair
Other foundation repair companies have one or two preferred methods of foundation crack repair and cannot perform outside of those narrow comfort zones. At Quality Waterproofing, we understand that each foundation breaks down in a different way and therefore may require any number of interventions in order to retain its strength. We offer a wide range of home foundation repair methods and have the experience and skill to be able to identify which foundation repair options would best suit your particular situation.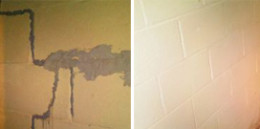 Some of our foundation crack repair techniques include:
Epoxy injection
Polyurethane foam injection
Carbon fiber reinforcement
Countersunk carbon fiber staples
Wall anchors
Helical pier supports
Underpinning
Unlike many of our local competitors, who recommend you undertake a costly and time-consuming wall replacement in the case of a vertical crack, our professionals have your best interests at heart, which means we're available to provide you with the vertical crack repair you need without breaking the bank.
Foundation Repair Cost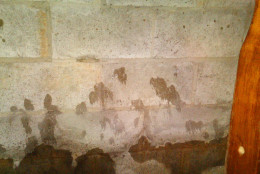 If you're in need of our services but are reluctant to call because of the anticipated foundation repair cost, consider this: paying a bill is a lot less stressful than watching your building collapse or having it deemed unsafe and inhabitable by the city. Also, your total foundation repair cost will only rise the longer you wait to bring in a professional. Foundation repair is not one of those tasks you can put off indefinitely, so be a responsible property owner and pick up the phone now to talk to one of our experts. Our craftsmanship and customer service are unmatched, making Quality Waterproofing, LLC, the natural choice for residents and business owners of Manassas, Alexandria, and throughout the region. Our foundation contractors will provide you with an honest assessment of your situation, explain your options to you, and keep you completely in the loop during each step of the foundation repair process.
After your foundation repairs are completed, be sure to talk to our pros about basement waterproofing. Excess basement moisture is a leading cause of foundation deterioration, so a simple sump pump installation or yard drainage re-grading could be what it takes to prevent future home foundation repair needs. For more information on house foundation repair or to receive a free estimate, e-mail or call Quality Waterproofing today.
Foundation Contractors
Foundation Contractor
Concrete Foundation Repair
Foundation Repair Companies