Excavating Contractor Services
Quality Waterproofing, LLC, is proud to provide the Manassas area with professional excavation services. Whether you're interested in breaking ground to build your new home, install a swimming pool, or upgrade your septic tank, you can expect comprehensive, quality service from technicians who work with a sincere interest in bringing each customer the finest work possible. We use nothing but the most effective and safest excavating procedures and always take special care not to cause collateral damages to your property during the excavation process. Our excavation contractors are available to work on projects of all sizes, so if you have work that needs to be done underground, make sure you have it performed by the dedicated professionals at Quality Waterproofing.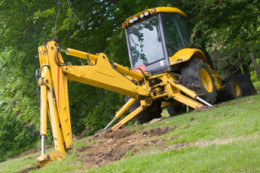 Our technicians are familiar with all of the local building regulations regarding construction excavation and perform every job to the letter of the law to help you avoid the hassle of fines and other consequences of code violations. We have more than 10 years of professional experience with grading and excavation services of all kinds and will properly prepare the soil at your excavation sites so they have the strength to support your vision, whether it is a new garage or a home addition. While all excavating projects require a different approach in order to fulfill all of your specific needs, you can always depend on Quality Waterproofing, LLC, to provide you with the same strong craftsmanship and emphasis on honest, friendly customer service from start to finish. We use only the finest tools and techniques available and are always staying abreast of recent industry developments so that we can be sure to provide you with the latest and greatest service available today. For all of this at an affordable price, choose Quality Waterproofing to help you with your next construction excavation project.
Grading
Installing a foundation means more than excavating some earth and pouring in the walls. Professional grading excavation services are essential if you want to ensure that your building will remain safe from the effects of accumulated water. Smart grading and excavation influences both the water that enters your foundation waterproofing system and the water that flows along the surface of the ground. The excavating contractor team at Quality Waterproofing, LLC, will examine the contours of your land and, if needed, use earth-moving tools to refashion your property to encourage runoff to flow away from your building and prevent puddling. Our team has more than 10 years of experience with grading and excavating and will put all of our knowledge and skills to use to bring you stable soils, an attractive landscape, and, most importantly, grading excavation that promotes dry basements and strong foundations.
The excavation contractors at Quality Waterproofing provide top-notch grading and excavating to both residential and commercial customers in Manassas, Arlington, and other nearby communities. Call or e-mail our technicians today if you're interested in receiving a free estimate or learning more about our grading and excavation services. From preparing excavation sites to re-grading your property to encourage proper drainage, you will receive nothing less than the best results from our team of professional excavating contractors.
excavating contractors
grading excavation
excavation companies