Crawlspace Waterproofing
Rather than slabs or basements, some homes are built on top of what is known as a crawlspace. These are best described as short basements, often three to five feet tall. Crawlspaces allow for easy access to pipes and convenient storage, but their proximity to the ground makes them magnets for excess moisture, which can result in a variety of health and structural threats. Unlike some of our competitors, who work only with foundations and basements, the team at Quality Waterproofing, LLC, extends our services to include crawlspace waterproofing. Contact us today via telephone or e-mail if you need a waterproof crawlspace to prevent excess moisture from threatening your building and its occupants.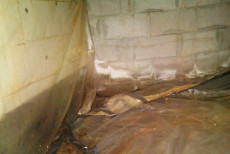 No matter how large or small your particular crawlspace waterproofing project may be, our experts will provide you with thorough work, making sure that every last inch is properly sealed. If you've noticed any moisture accumulating in your crawlspace, send us an e-mail or call us today. We are dedicated to helping home- and business owners in Manassas and beyond by providing them with a well-maintained, waterproof crawlspace. For more information on sealing a crawlspace or to hear about our affordable rates, call Quality Waterproofing now. 
Sealing a crawlspace helps prevent a variety of problems that could have a negative effect on your entire building, including:
Infestation by rodents, insects, and other pests that are attracted to moist environments
Mold and mildew growth
Unpleasant odors
Unhealthy air packed with pathogens and allergens
Decaying wooden joists, boards, beams, or other structural parts
Just because you have not noticed any of the above symptoms does not mean that your crawlspace is necessarily safe. Crawlspaces often have dirt floors, which can make it difficult to detect problems such as mold growth until they have already become a major concern. Save yourself the hassle and cost of repairs and cleanup by calling us for professional crawlspace sealing. After all, the initial cost of sealing a crawlspace is far preferable to having a seriously damaged home or suffering from poor health.
Every crawlspace waterproofing project differs a little depending on your building's particular circumstances. If there is standing water in your crawlspace, your technician will begin by pumping the water out via a sump pump or other efficient method. Then, the area will be checked for mold spores, vermin, and other threats. If any of these problems are detected, they must be eliminated. After the area is properly repaired, your technician will seal crawlspace cracks and seams that could serve as an entry point for excess subterranean water. We can then install an interior hydrophobic vapor barrier that will discourage the entrance of water in the future.
A waterproof crawlspace is a great way to up your property value, prevent serious structural deterioration, and protect your family or your business. Quality Waterproofing is able to perform crawlspace sealing on both new and existing structures in the Manassas area, so no matter what your situation, we can help. Our team is ready to put our more than 10 years of hands-on experience to work for you. Contact us today to ask any questions you may have about our company policies and learn more about the perks of a waterproof crawlspace.
For your added benefit, our crawlspace sealing pros are fully licensed, bonded, and insured. Get a free estimate today!

crawlspace sealing
crawlspace waterproofing
waterproof crawlspace