Services Offered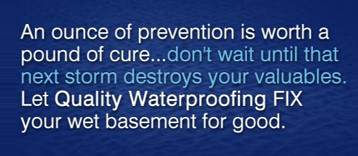 The secret to a dry basement is as simple as calling in the professionals at Quality Waterproofing. Our team of dedicated technicians has more than 10 years of experience and can help you transform your moldy, dank basement into a clean, usable space. Whether you're interested in basement waterproofing to prepare for a remodeling project or looking for urgent foundation crack repair to keep your building safe and sound, Quality Waterproofing, LLC, is the name to know in Manassas and beyond.
Some of the many reasons to enlist the help of a basement contractor from Quality Waterproofing include:
Safety—Wet basements are not simply an inconvenience. Such conditions pose real danger to a building's occupants, as excessively moist conditions can encourage the rapid growth of mold and serve as a breeding ground for a variety of dangerous pathogens. Quality Waterproofing offers various methods of basement and foundation waterproofing that can help prevent wet basements.
We also provide mold remediation services and are available to install egress windows, which are essentially specialized emergency exit windows that allow building occupants a direct escape route via the basement. To learn more about how we can help make your home or business safer, call or e-mail Quality Waterproofing, LLC, today.
Property maintenance—If you've discovered even the tiniest cracks or breaks in your foundation walls, it is important to seek the help of a professional basement contractor as soon as possible to prevent potentially irreparable damage from developing. If caught early, expert foundation crack repair could eliminate all basement leaks and ensure that the structure of your home or business remains strong and solid.
Market value—Prospective buyers are more likely to be interested in a building with a waterproof basement that does not require any major foundation repairs. If you're considering selling your home in the near or distant future, you'll want to resolve all of your basement, foundation, and crawlspace waterproofing issues to maintain your property's value and overall market appeal.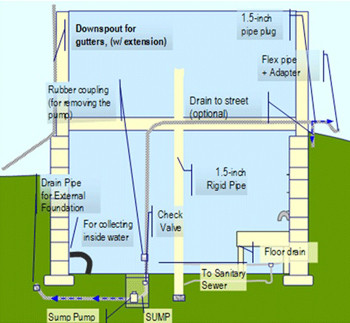 Large projects like foundation repair and egress window installation help property owners maintain their buildings, but they also come with a big price tag. The team at Quality Waterproofing understands this and aims to provide customers with the lowest prices in the Manassas region so you don't have to decimate your bank account in order to keep your building in good condition. Financing is available for all of our services, and we even provide senior and veteran discounts. Call or e-mail us for more details on our prices or to set up an appointment for a foundation contractor to assess your property.
Whether you're interested in foundation excavation or mold remediation, you can expect quality care from dedicated basement and foundation contractors who will use their tradesman's skills to help Manassas-area home- and business owners enjoy successful, productive living and working environments. While other foundation repair companies are strong in one area of service but are sorely lacking in another, we pride ourselves on providing a winning blend of speedy, reliable work and friendly, honest customer service. To learn more about grading excavation, crawlspace waterproofing, and our myriad other services, contact us today. A Quality Waterproofing representative will be more than happy to assist you.
The Quality Waterproofing Mission Statement:
Our mission is to eliminate water from basements and crawlspaces while utilizing permanent environmentally friendly solutions that take into consideration the health and well-being of our customers and their living spaces. Our high-end customer service exemplifies our core principles of Integrity, Trust, Honesty, and our commitment to 100% customer satisfaction.